Saturday night I sat Tate down and tried to explain Easter to him. He understood Jesus and repeated it back to me. His face had an interested expression, but I'm not sure how much he really got....until I got to the Easter Bunny part. I said "Now you have to go to bed and sleep the whole night, and if you are a good boy the Easter Bunny is going to come in the house and hop around and leave eggs for you to find and because you are a really good boy he is going to leave you a basket full of presents." When he heard the word eggs and presents his face lit up and a huge smile spread across his whole face. I said "Would you like the Easter Bunny to bring you presents?" He smiled and said "Hesss (which is yes) presents!" Oh man he is precious!!! When I put him in his crib to go to sleep he just kept saying "Bunny..presents..bunny..presents"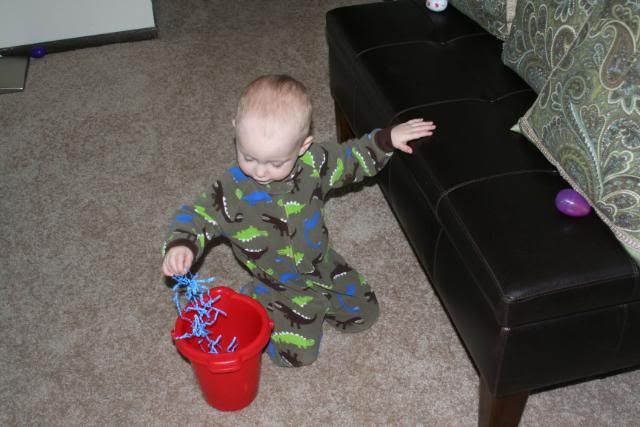 Donny and Tate got Nerf guns in their baskets and had fun shooting at each other, Tate needed help with the trigger though.
I'm baby sitting a little boy in our ward this week and Tate had so much fun with him today. I was out in the living room while they were playing in Tate's room and I hear Tate start to wine which I ignored cause he does that when he gets frustrated with a toy or Lego's. So I kept doing what I was doing (he wasn't crying) and then he starts grunting and says "Mom...I stuck! Mom...I stuck! Hep...Hep!" So I go in there and this is what I find...