Dec 6, 2011
Tate has grown out of all his winter hats from last year, well he was only 6 months old, so reasonably so.... anyway, so I thought I would make him a new one. It's cute but I think it's the little guy under it that makes it so irresistible!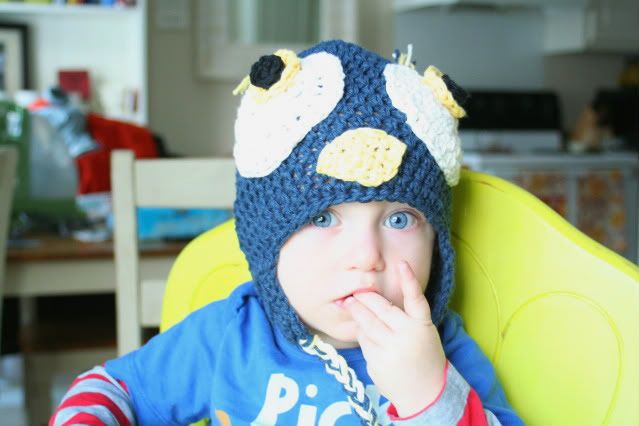 You are probably wondering if I keep Tate in the high chair all day everyday, because that is where most of his pictures are taken. Well the truth is, no I don't, it's just the only place where he is still enough to get a clear picture.
Dec 1, 2011
I feel so out of touch with the blogging world out there, I actually didn't look at a single blog for about 10 days. It feels strange to be back at it again after such a short absence.
For the past 11 days I've been in Utah visiting family. I hadn't planned this trip and we had planned to stay home in Minnesota for thanksgiving. I got a call from my little sister on Thursday the 17th telling me some heartbreaking news. My brother and his wife had lost their baby boy. She was 34 weeks along. I was devastated for them. Tears and emotion over came our whole family. I thought it was financially impossible for me to come out to be with them.
My sweet sister-in-law spent the whole night in labor and Friday morning delivers Koston, their stillborn baby.
I felt I needed to get out there and be with my family, which was made possible by my incredible in-laws and sweet husband. Poor Donny, I left him with no food, a messy house and a huge pile of laundry! With a smile on his face he told me not to worry about any of it and go support my family. He is really the best there is folks!
It was good to be with family during this heartbreaking time. The strength that comes from family and love is incredible. I'm so thankful for family.
Baby Koston was buried the following Wednesday and had a beautiful grave site service. He is loved and very missed. I know he is a blessing in our lives, and his sweet spirit is busy doing his work with his Uncle Ryan.
I believe it was the night of the service that there was the most beautiful sunset. We all went out to look at it and enjoy it's beauty. I heard Kensie say to Maycie "Koston made this sunset for us to show how much he loves you". I loved that. Aaron and Kens are amazing, strong, and mindful of Heavenly Father's plan. They are fantastic parents. I love them dearly.
In the furry of packing in a few hours and my mind being else where I forgot my camera at home (and enough clothes for 11 days). I was super bummed I didn't get pictures of the service or Thanksgiving or any family. So all I have are the memories I'll keep with me always, which is good enough.
We are so blessed. There are many things to be grateful for. Little Koston will always be in our hearts and with us forever. Heavenly Father loves us, and cares about each and every one of us.