Grandma and Grandpa Baum came to visit us the past 9 days. It was such a great visit! We really enjoyed having them here. Tate got so attached to them that when they were getting ready to leave and rolling out their suitcases he started crying. After they left he stood at the door just sobbing for about 10 minutes, I then picked him up and he continued to cry on my shoulder for a while. I couldn't hold back the tears either with this sweet boy crying for his grandparents. He just fell in love with them. Donny and I have always said how blessed we are to have the families we have, and this week just reaffirmed the love we have for our families. I wish I would have taken more pictures while they were here. I'm still not as good as I should be with taking pictures. The funny thing is that I now have it down to have it with me all the time, I just forget to get it out! This is kind of a picture dump but I couldn't leave any out and well I know most people look at blog for the pictures anyway, so I guess I shouldn't apologize for it. These first few are from our walk around Minnehaha park and falls. We are so happy to live in such a beautiful place.
We spent 6 hours at the Mall of America one day. The boys were all troopers, especially Tate! He did so well! He got to ride a few rides at the Nickelodeon Park with Donny and Grandpa. He loved it of course. I swear that place is like the Lotus, you can spend hours in there and not realize how long you were there. Also a picture of Greg feeding Tate his first Twinkie and Tate doing ab exercises with Valynn.
These pictures are from our trip to Stillwater. The "birthplace of Minnesota", it was a beautiful day and the views were gorgeous!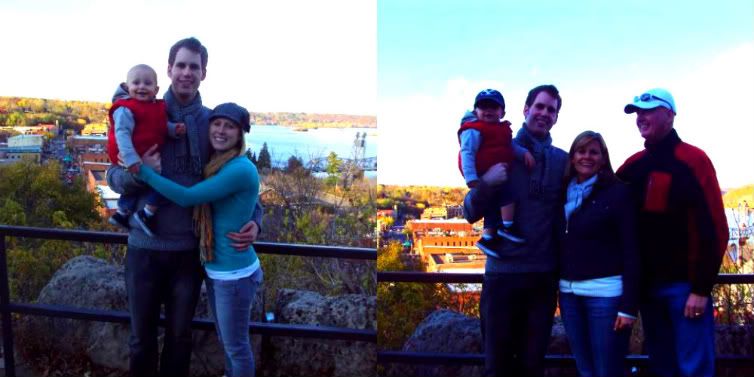 These are a couple houses we saw on our drive around Stillwater. The scariest house on the block and a gorgeous Victorian house with pretty fall leaves. I wish I would have taken pictures of more houses, there were some really pretty ones.
Happy Halloween!